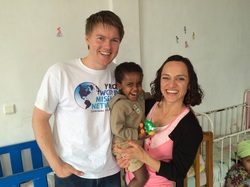 It is with much joy in our hearts that we are able to share with you the Dixon family! This photo was taken just days ago when Esther and Bjorn were finally able to call this special little guy, "Son". Do you see the joy on their faces?Please join us in rejoicing with this family!
Their story has included many struggles, twists and turns which you can read all about on Esther's blog: http://www.estherslittlewonders.blogspot.com/ This is a local family who has shown grace, perseverance and above all FAITH in their journey to their beloved son. Because of the wonderful outpouring of support and all of the race registrations, Laurencia's Victory was able to send a $2000 grant check to the Dixons to help offset the tremendous costs involved with flight and international travel/adoption. THANK YOU for helping us aid beautiful families like the Dixons-who live right in our own community! Esther, being the sweet, thoughtful person she is, provided me this note last night (while still in-country visiting with her new son) despite being very sick and I'm sure VERY tired!
"Our family is deeply grateful to LV for their very generous support of our adoption! We passed court in Ethiopia yesterday and now have a beautiful 3-year old son, and LV's grant money will help toward our travel expenses to bring him home. We first learned about our son when he was not quite 18 months old, and due to paperwork and bureacracy issues, it took 2 years to finally be able to bring him home. We have been so encouraged and uplifted by other people's love and support during this difficult journey, and LV's grant was such a sign of God's generosity and love for us. Thank you from the bottom of our hearts!" - Esther
THANK YOU ALL for helping us fulfill this earthly mission on behalf of our Laurencia in heaven!