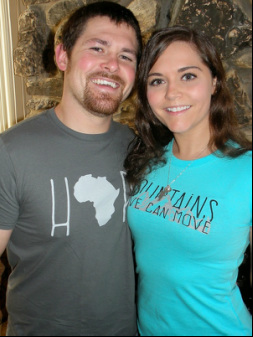 Finally! We get the sincere pleasure of introducing the Cormican family to you. Tony and Tara Cormican are in the process of adopting a little boy from Africa. Tara was the first person to reach out to LV when we launched. Patiently she waited and prayed for Laurencia's Victory, that we would be successful in our mission and that we would be able to find the answers we needed in order to provide family grants, no matter whether we could help her family or not. What a blessing her prayers have been to us! But Tony and Tara had to have much more patience than that. They have been waiting and waiting to get a referral (child matched to their family) and just in the last few weeks received and accepted the referral! In other words, they know they are going to go get a son! They can't yet share his name or photos but they share their hearts and story very well on their own blog:
www.cormicanadoption.blogspot.com
. Tara so graciously posted news of the grant LV recently provided to them. It brought us to tears! As you read Tara's words, please bear in mind that YOU are the reason for her thanksgiving to LV. As we read it, we were so proud of our Laurencia and so grateful to everyone who is helping us to fulfill her earthly mission.
THANK YOU Tony and Tara for the great honor of sharing in your story. We will be following along as you work to bring your sweet boy HOME!
The Cormicans also have their own fundraising page (unrelated to LV) on which you can
view a video of Tony and Tara to learn a little bit more about them and hear firsthand why they are adopting:
https://www.purecharity.com/cormicanadoption?aff=6ga5k